Bowers Mill, Black Brook River Restoration
Our river restoration project on Black Brook is currently underway. This project involves removing a small weir, taking out artificial bank walls and reprofiling to reconnect the river with its floodplain, and creating wetland habitats. We will also be planting tree species such as Alder and Willow this winter. The drawing below outlines the plans for the site.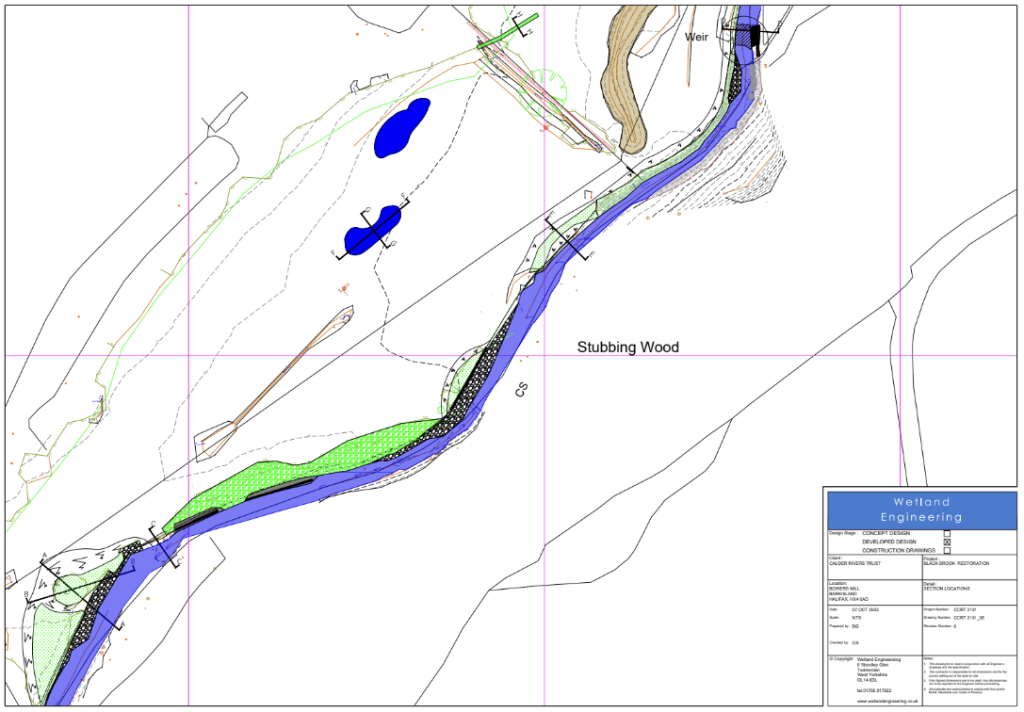 As the work progresses, we will update this blog.
Update – the weir is gone!
To avoid disturbances during salmonid spawning season, the small weir to the North-East of the site was the first section to be worked on. This will allow fish passage, reconnect ecological and hydrological functioning in the brook and encourage natural processes.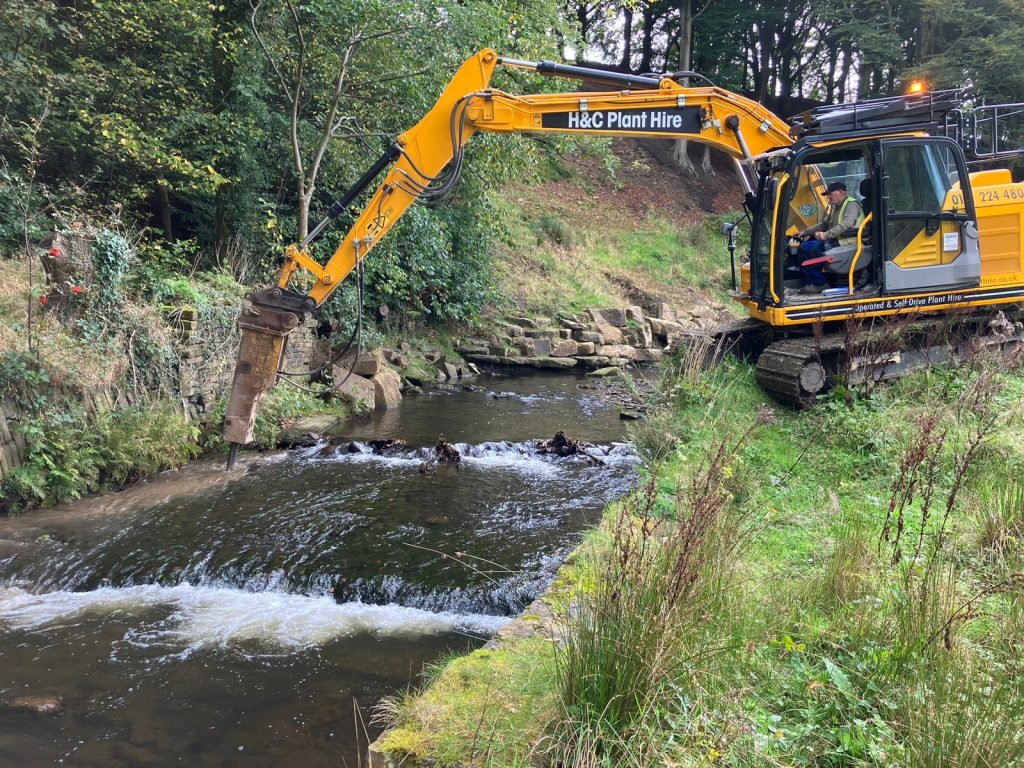 Floodplain Reconnection
The artificial walls on the left bank of Black Brook have started to be removed, and the bank has been re-profiled. The shallower banks have already allowed water to spill into a wetland/backwater area during the high flows of Storm Babet. Once established, these new areas will provide habitat for many wetland species of flora and fauna, as well as reducing peak flows in flood events.
For the artificial walls to be removed from the left bank, we had to remove around 20 trees that had grown through the wall. Material from these trees will be used both in-stream and on the floodplain. Brash has been left in habitat piles on the left bank, and the larger limbs will be used in the channel along the re-profiled bank once groundworks are complete to encourage flow diversity.
This will be followed by re-planting the space with over 200 trees this Winter with species such as Willow, Alder and Hawthorn.
Update: Groundworks are complete!
Our brilliant contractors have finished the groundworks on-site, and the left bank of Black Brook has been completely transformed! The newly reprofiled banks have been reinforced with biodegradable coir matting. This will control erosion, stabilise the new banks over winter, and encourage vegetation growth.
We are now waiting for the ground to settle before we begin tree planting early next year. Fencing will be installed along the river so the floodplain can be grazed, but livestock will not be able to reach the watercourse and poach the banks.